It's been a month of challenges but we've finally got to the end of the month with smiles on our faces. Both my husband and I have some time off work over Easter and it is well needed. We are all tired, under the weather and in need of a well deserved recharge. We've got family days out planned, lots of jobs to tick off the to-do list and a couple of family birthdays to celebrate so we've got quite an action packed Easter but I'm sure we'll find time to relax and have some fun.
This photograph was taken earlier in the month when we went up to Manchester to see our friends and we took advantage of the beautiful spring sunshine and visited their local park. It was really beautiful weather and a great day to be outside. Little Mr played on the park with the digger and attempted the slide (he doesn't really do slides!) and after a yummy lunch we had a good walk around the park. We came to a bridge over a stream and we spent some time throwing sticks into the stream and watch them come out the other side. Little Mr got really excited as he saw the stick come out the other side and it was lovely to watch. We had such a lovely day with our friends and we really hope we get to spend more time with them this year.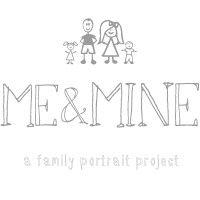 I'm linking up with Me and Mine over on Lucy's blog, go check out the other entries for the project by clicking on the logo above.